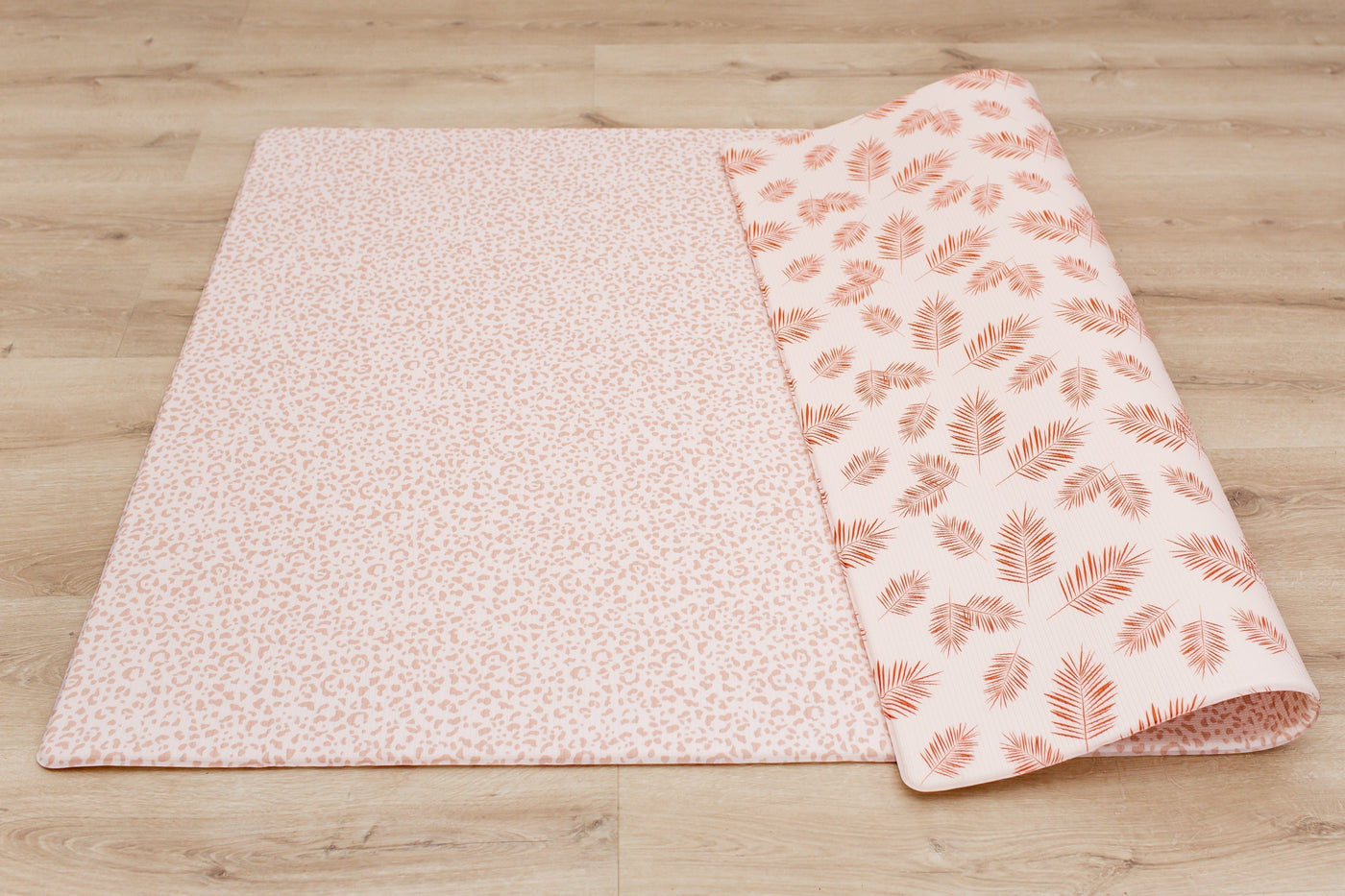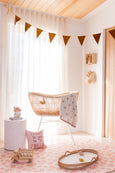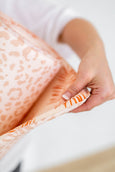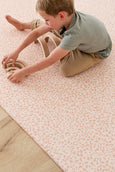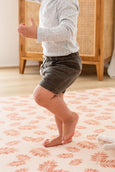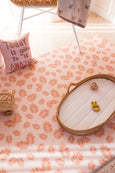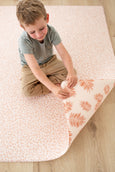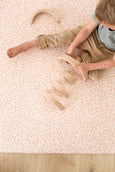 LARGE: Neutral Leopard / Sunset Palm Leaf Play Mat
$189.00 AUD $0.00 AUD
Information
Features
Product Safety
💥BLACK FRIDAY SALE💥 Use code BLACKFRIDAY at checkout for 15% off this style. Not to be used in conjunction with any other discount codes and offers strictly applies from 10.30am (AEST) 09/11/2023 - 02/12/2023.

Size: LARGE
(Also available to purchase in Small and Round sizes)

Dimensions: 200cm (L) x 140cm (W) x 1.5cm thick

Weight: 4.2kg

Pattern: Consisting of almond and soft peachy pink undertones, our leopard pattern is subtle in design, luxurious, and a stunning addition to any room of your home.

Reverse: Sunset Palm Leaf, consisting of burnt orange and soft peachy pink undertones. Our newest colourway is vibrant and fun whilst remaining beautiful and earthy.

Material: Our play mats are made from a non-toxic TPU (Thermoplastic Polyurethane) material. TPU is a high quality, lightweight, soft yet durable material. TPU is free of nasty chemicals, colour stabilisers, plasticisers and better yet a biodegradable material.

* PLEASE NOTE: As our play mats are made using non-toxic materials and free of chemical stabilisers / plasticisers, over time fading and discoloration to both the surface and edges of our play mats is to be expected (more so our lighter toned play mats). The timeframe for this natural process depends on how your play mat is used and cared for and our Care Instructions provided will assist with, not prevent, this natural process and prolong the life of your play mat.

Shipping & Handling: For detailed information please review our Shipping & Handling Policy here

Refund & Returns: Before purchasing goods with us, please ensure you review our Refund & Returns Policy here


Why you will love our play mat:

Stylish patterns to compliment your home interior
Non Toxic and free of harmful chemicals
1.5cm thick soft foam core
Soft enough to protect against dreaded bumps and tumbles
Supportive enough for tummy time, rolling, crawling through to walking
Perfect for general play, arts and crafts and even make a great yoga mat
Makes a great splat mat under highchairs
Hypoallergenic and water resistant surface
Wipeable and easy clean surface
Provides insulation from cold floors
Reversible designs
Lightweight and portable to any room of your home
Roll up and store away at any time
Whole family to enjoy

Made from quality and sustainable materials. Our play mats are hypoallergenic and odourless and do not contain any toxic substances such as BPA, formaldehyde, phthalates or any harmful heavy metal substances such as lead or mercury and are latex and PVC free.

Our play mats are compliant with Australian & New Zealand AS/NZS ISO 8124 Toy Standards and European EN71(3) Toy Standards, making them a safe option for your little ones to play. 

A copy of our test report is available here.
Customer Reviews
100
reviewers would recommend this product
Write a Review
Ask a Question
03/12/2023
Gabby S.

Australia
I recommend this product
Best one on the market
Bub loves her playmat and I love sitting down on it with her. It's super soft and comfortable not to mention stylish. Will be purchasing another one soon to go in her nursery.
12/22/2022
Jessica M.

Australia
I recommend this product
Perfect addition to the house
Baby loves playing on her luxe at play mat (so does mum/dad/ granny & Pa). Thick and soft which is reassuring when she falls back she is safe. Easy to clean and to move around the house.
04/30/2022
Kelsey G.

Australia
I recommend this product
Kelsey
Good quality thick play mat. Love the pattern
02/24/2022
Angela M.

Australia
I recommend this product
Amazing! Neutral Leopard / Sunset Palm Leaf Play Mat
Would highly recommend this product.
02/09/2022
Anna G.

Australia
I recommend this product
Excellent mat!
This is our second purchase from Luxe at Play. We got a round mat for baby's nursery but now that she's more mobile we needed the extra size for our living room. So happy with the quality, prints and durability of these mats. Have been raving about them to anyone with a baby.
01/17/2022
Stephanie D.

Australia
I recommend this product
Play space!
We purchased our second Luxe at play mat. They feel amazing. I have piece of mind when my daughter is playing with the protection of the luxe mat.
12/22/2021
Alicia S.

Australia
I recommend this product
Great play mat
So excited to receive this mat. Honestly, I would like the entirely flooring of my house done in it!
12/22/2021
Kelli T.

Australia
I recommend this product
Fantastic products & service
I love these play mats & so do my children & grandchildren. Fantastic personalised service.
09/09/2021
Charmaine R.

Australia
I recommend this product
Miss
Love it! Easy to clean nice and soft
08/30/2021
Ashlee F.

Australia
I recommend this product
Love love love
I absolutely love this mat! Super easy to clean, large enough for Bub to explore and play! It's thick but soft for when she falls. Highly recommend to anyone looking to purchase one of them
08/26/2021
Kristy K.

Australia
I recommend this product
Amazing
I wish I bought this earlier rather than wasting money on smaller play mats! Since getting it my daughters movement has come along in leaps and bounds having space to move freely and being waterproof nappy free time is a total breeze! It's also super pretty I love the design and it complements our home and my bubs nursery beautifully
08/15/2021
Cassandra P.

Australia
I recommend this product
Live saver
Our house has wood floors this padded mat is great for Bub to play and learn to roll and move around on, especially cause she is a very spewy baby, very easy to clean
07/29/2021
Cailen J.

Australia
I recommend this product
Very boujee
Love the pattern. So impressed with the quality. More than happy to have this mat as part of our decor. Also extremely soft for little one learning to move.
07/21/2021
Kat W.

Australia
I recommend this product
Good quality
We are very happy with this mat. Our LO plays on it and it is soft enough that she doesn't cry when she falls over. Fun pattern. Quick delivery. Easy to clean. Couldn't ask for more.