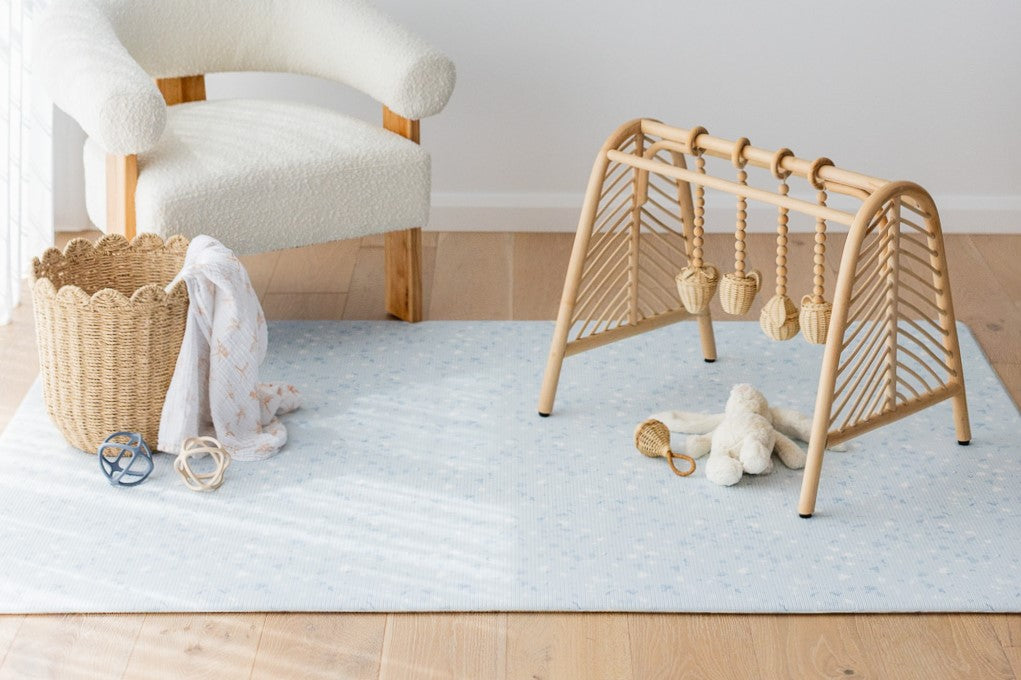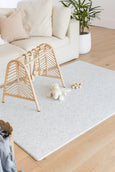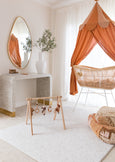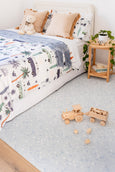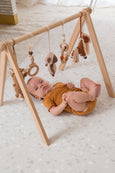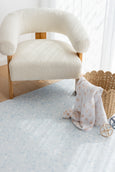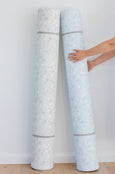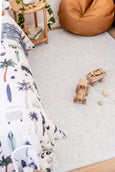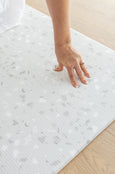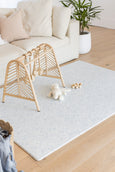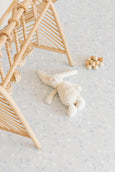 LARGE: Beau Blue Terrazzo / Misty Grey Terrazzo Play Mat
$189.00 AUD
Information
Features
Product Safety
💥BLACK FRIDAY SALE💥 Use code BLACKFRIDAY at checkout for 15% off this style. Not to be used in conjunction with any other discount codes and offers strictly applies from 10.30am (AEST) 09/11/2023 - 02/12/2023.

Size: LARGE
(Available in large size only)

Dimensions: 200cm (L) x 140cm (W) x 1.5cm thick

Weight: 4.2kg

Pattern: Consisting of pastel blue colourtones our beau blue terrazzo pattern is soft in design, gender neutral and a stunning addition to any room in your home.

Reverse: Misty Grey Terrazzo

Material: Our play mats are made from a non-toxic TPU (Thermoplastic Polyurethane) material. TPU is a high quality, lightweight, soft yet durable material. TPU is free of nasty chemicals, colour stabilisers, plasticisers and better yet a biodegradable material.

* PLEASE NOTE: As our play mats are made using non-toxic materials and free of chemical stabilisers / plasticisers, over time fading and discoloration to both the surface and edges of our play mats is to be expected (more so our lighter toned play mats). The timeframe for this natural process depends on how your play mat is used and cared for and our Care Instructions provided will assist with, not prevent, this natural process and prolong the life of your play mat.

Shipping & Handling: For detailed information please review our Shipping & Handling Policy here

Refund & Returns: Before purchasing goods with us, please ensure you review our Refund & Returns Policy here


Why you will love our play mat:

Stylish patterns to compliment your home interior
Non Toxic and free of harmful chemicals
1.5cm thick soft foam core
Soft enough to protect against dreaded bumps and tumbles
Supportive enough for tummy time, rolling, crawling through to walking
Perfect for general play, arts and crafts and even make a great yoga mat
Makes a great splat mat under highchairs
Hypoallergenic and water resistant surface
Wipeable and easy clean surface
Provides insulation from cold floors
Reversible designs
Lightweight and portable to any room of your home
Roll up and store away at any time
Whole family to enjoy

Made from quality and sustainable materials. Our play mats are hypoallergenic and odourless and do not contain any toxic substances such as BPA, formaldehyde, phthalates or any harmful heavy metal substances such as lead or mercury and are latex and PVC free.

Our play mats are compliant with Australian & New Zealand AS/NZS ISO 8124 Toy Standards and European EN71(3) Toy Standards, making them a safe option for your little ones to play. 

A copy of our test report is available here.