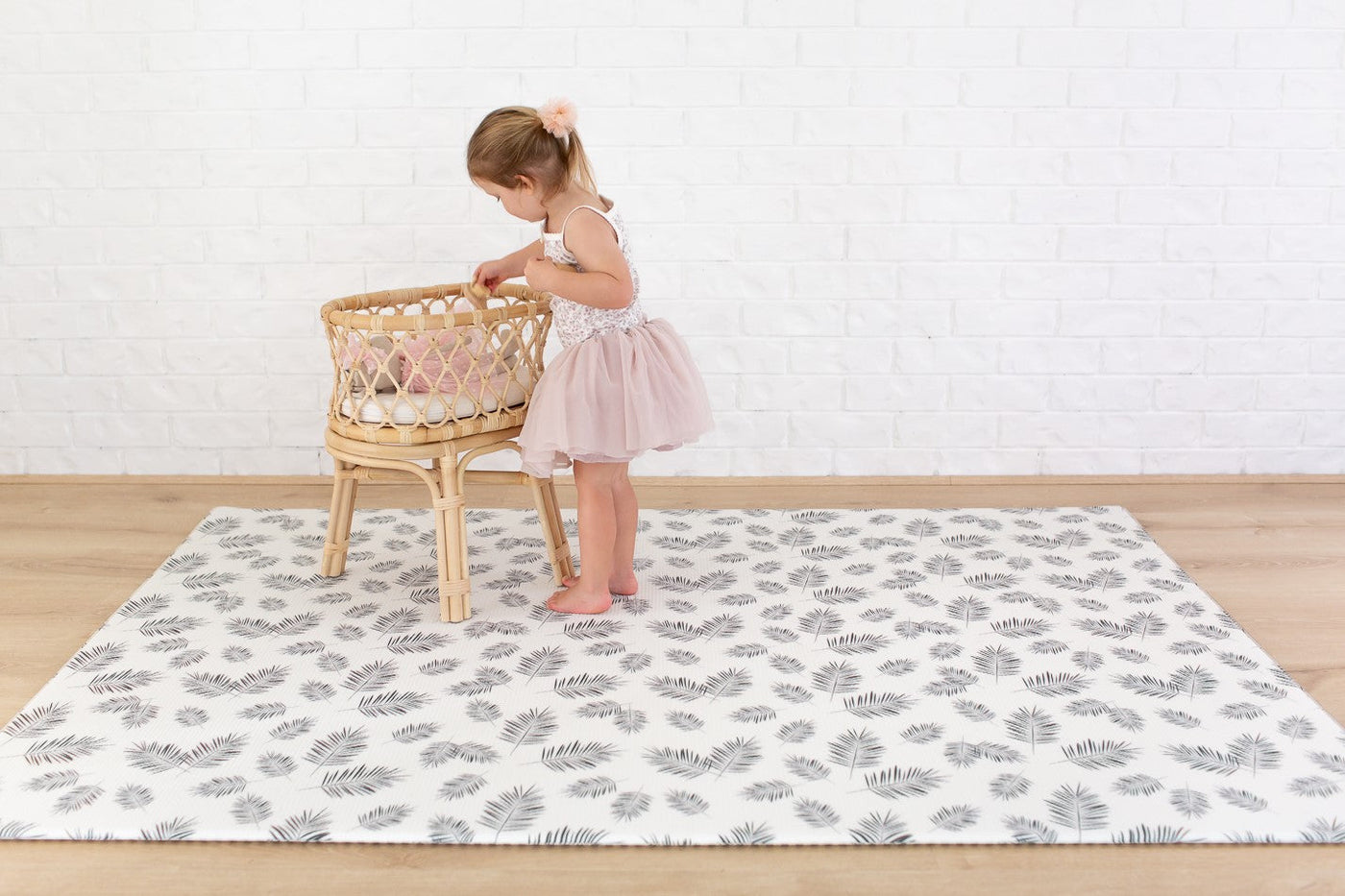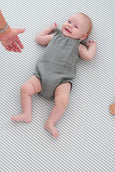 LARGE: Palm Leaf / Grey Stripes Play Mat
$189.00 AUD
Information
Features
Product Safety
💥BLACK FRIDAY SALE💥 Use code BLACKFRIDAY at checkout for 15% off this style. Not to be used in conjunction with any other discount codes and offers strictly applies from 10.30am (AEST) 09/11/2023 - 30/11/2023.

Size: LARGE
(Also available to purchase in Small and Round sizes)

Dimensions: 200cm (L) x 140cm (W) x 1.5cm thick

Weight: 4.2kg

Pattern: Inspired by the tropical coastlines of Australia, our hand illustrated palm leaf pattern features a monochrome color pallet and is bold in design, yet soft enough to compliment your home interior.

Reverse: A bed of gender neutral grey and white stripes (new and improved 7mm wide stripes)

Material: Our play mats are made from a non-toxic TPU (Thermoplastic Polyurethane) material. TPU is a high quality, lightweight, soft yet durable material. TPU is free of nasty chemicals, colour stabilisers, plasticisers and better yet a biodegradable material.

* PLEASE NOTE: As our play mats are made using non-toxic materials and free of chemical stabilisers / plasticisers, over time fading and discoloration to both the surface and edges of our play mats is to be expected (more so our lighter toned play mats). The timeframe for this natural process depends on how your play mat is used and cared for and our Care Instructions provided will assist with, not prevent, this natural process and prolong the life of your play mat.

Shipping & Handling: For detailed information please review our Shipping & Handling Policy here

Refund & Returns: Before purchasing goods with us, please ensure you review our Refund & Returns Policy here


Why you will love our play mat:

Stylish patterns to compliment your home interior
Non Toxic and free of harmful chemicals
1.5cm thick soft foam core
Soft enough to protect against dreaded bumps and tumbles
Supportive enough for tummy time, rolling, crawling through to walking
Perfect for general play, arts and crafts and even make a great yoga mat
Makes a great splat mat under highchairs
Hypoallergenic and water resistant surface
Wipeable and easy clean surface
Provides insulation from cold floors
Reversible designs
Lightweight and portable to any room of your home
Roll up and store away at any time
Whole family to enjoy

Made from quality and sustainable materials. Our play mats are hypoallergenic and odourless and do not contain any toxic substances such as BPA, formaldehyde, phthalates or any harmful heavy metal substances such as lead or mercury and are latex and PVC free.

Our play mats are compliant with Australian & New Zealand AS/NZS ISO 8124 Toy Standards and European EN71(3) Toy Standards, making them a safe option for your little ones to play. 

A copy of our test report is available here.
Customer Reviews
Write a Review
Ask a Question
I recommend this product
Totally in love!
We love the gorgeous print and the practicality of being about to wipe off any mess. Cleaning is no fuss at all. Making life so much easier with a 6 month old.
01/17/2022
Sarah R.

Australia
I recommend this product
Absolutely beautiful Mat
I ordered for the first time the palm leaf mat and I love it!! Beautiful unisex design with neutral colour scheme. Super comfortable for any activity for any room! My 17 month old son loves it and it looks amazing for his dinosaur themed room we are designing. Easy to clean which is always a must! Would definitely recommend and would definitely buy again :)
01/01/2022
Blake T.

Australia
I recommend this product
Excellent very happy thank you
Excellent very happy thank you
11/24/2021
Roslyn D.

Australia
I recommend this product
Soft and stylish
Really good mat for my baby. Really soft when my baby falls. And looks so nice in my lounge room
11/01/2021
Penny B.

New Zealand
I recommend this product
Best purchase ever
I have a very spilly 5 month old baby. Previously I had him on a linen play mat and was having to wash it every single day due to how much milk spills were getting on it. With this I just wipe it up so easily. The best baby thing I have bought so far.
10/20/2021
Heather G.

Australia
I recommend this product
Luxe palm leaf
I love ❤️ my new mat. It's soft and spongy to touch. It's also a beautiful colour and blends in with my decor.
09/28/2021
Eden S.

Australia
I recommend this product
Love it
Lovely quality, great size and easy to clean. Also blends really nicely with our living room rug and decor so it's not an eyesore like some children's products!
09/16/2021
Amie B.

Australia
I recommend this product
Practical, Comfortable & Beautiful
We received our Mat a few weeks ago & we are very happy with the quality and durability of the mat. Nothing has so far stained the white mat, or caused any damage; so she's a tough mat too! The kids love having picnics on it and has allowed our baby somewhere to roll around & play safely. Our dog has also taken a liking to it, so maybe we should invest in a small one for him as well!
08/13/2021
Rebecca G.

Australia
I recommend this product
Excellent quality
Loving how this play mat is easily cleaned! The only mat that doesn't give me grief to clean everyday. It's also very soft, my baby who is learning to walk keeps falling and she is protected from the padding of the mat. Love it and it looks great too.
02/22/2021
Rhiannon G.

Australia
I recommend this product
Utter Regret
Regret... that I didn't get this sooner! I waited till my little dude was 6 months and I am so mad at myself because this is the BEST! For so long I avoided the floor because after birth I just struggled to be comfortable. I tried to do tummy time with my son while I sat on the couch... terrible and depressing! Then I went to my friends house who had this exact mat with the same print and I was BLOWN AWAY! I ordered one the same day and it has honestly allowed me to hang out with my baby on the floor no dramas. He loves it too of course. He is learning to sit and crawl and if he loses his balance it doesn't hurt him falling over on this mat. The best. Get one. In my top 10 things you must have love it so much!!!!! Ahhh!!!!
02/21/2021
Joel S.

Australia
I recommend this product
Great product
Very happy with our purchase: functional and stylish.
02/21/2021
Jessica E.

Australia
I recommend this product
Highly recommend
Excellent play mat. Worth every cent
02/19/2021
Annabel H.

Australia
I recommend this product
Love our play mat!
Super soft, durable and such a beautiful pattern! We thoroughly enjoy playtime on our new playmat!
01/02/2021
Pei S.

Australia
I recommend this product
Perfect for playing on
Nice thick mat that is smooth and soft to play on. Easy to clean and wipe down
01/01/2021
Stephanie P.

Australia
I recommend this product
Great play mat
As soon as my 2.5month old did tummy time on this mat she rolled for the first time! Hasn't stopped rolling since! Highly recommend, easy clean up for nappy free time too
11/10/2020
Jordan C.

Australia
I recommend this product
Beautiful mat
Soft and squishy - perfect for toddler